Hidradenitis suppurativa (HS) may present in various phenotypes, making diagnosis challenging. Early diagnosis may help improve HS prognosis and prevent extensive and irreversible subdermal damage and scarring.1,2
In the UNITE registry*, diagnostic delay averaged 7.7 years and was significantly associated with progression to Hurley Stage II or III. Each additional year of delayed diagnosis increased risk of progression by 6%.3
*UNITE: a prospective disease-based registry of patients ≥12 years with active HS. Diagnostic delay defined as duration between patient-reported symptom onset and HS diagnosis.
The diagnosis of HS is a clinical one using 3 key criteria. No confirmatory laboratory tests exist.2,4-7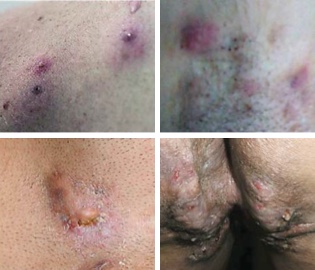 Comedones (upper left), nodules (upper right), abscesses (bottom left), sinus tracts (bottom right)
HS lesions are painful, deep-seated nodules and abscesses in early stages, with sinus tracts, and scarring occurring in later stages of disease.
Terms such as sores, bumps, boils, pimples, blackheads, and scars may be more recognizable to patients than clinical terminology related to HS signs and symptoms.
Ask your patient:
Have you experienced tender, swollen bumps that may look like boils?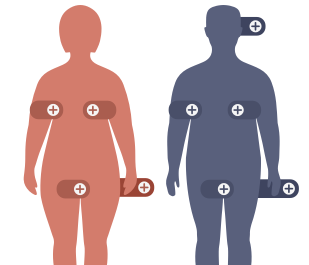 HS lesions typically present in at least 1 of these locations: axilla, groin, genitals, buttocks, or under the breasts. Other areas may include the neck or abdomen.
Patients may not report affected areas since they tend to be in sensitive, intimate regions of the body. Specific questioning related to symptoms your patient may be experiencing in these areas may be required.
Ask your patient:
Have these bumps been appearing on your inner thighs, armpits, chest, groin, or buttocks?
3. Chronicity/recurrence of lesions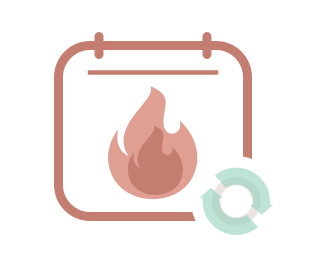 Lesions tend to recur in the affected regions characteristic of HS. Sometimes lesions may recur in the same anatomical location of the body, occur in a different location, or both.
Two or more recurrences of symptoms over a period of 6 months may be indicative of HS and often referred to as flares or flareups.
Ask your patient:
Have you experienced these symptoms 2 or more times in the past 6 months?
3D Ultrasound Images of HS
Ultrasound imaging can reveal tracts and tunneling occurring beneath the skin prior to comparable damage appearing on the skin's surface.9
Co-managing HS With a Specialist
Partner with an experienced HS specialist in dermatology to co-manage your HS patients.
REFERENCES
1. van der Zee HH, Laman JD, Boer J, Prens EP. Hidradenitis suppurativa: viewpoint on clinical phenotyping, pathogenesis and novel treatments. Exp Dermatol. 2012;21(10):735-739. 2. Micheletti RG. Natural history, presentation, and diagnosis of hidradenitis suppurativa. Semin Cutan Med Surg. 2014;33(suppl 3):S51-S53. 3. Kimball AB, Rahawi K, Duan Y, Alavi A, Okun MM. Impact of delayed diagnosis in patients with hidradenitis suppurativa (HS): real-world data from the UNITE HS registry. Poster presented at: Symposium on Hidradenitis Suppurativa Advances; November 1-3, 2019; Detroit, MI. 4. Jemec GBE. Hidradenitis suppurativa. N Engl J Med. 2012;366(2):158-164. 5. Margesson LJ, Danby FW. Hidradenitis suppurativa. Best Pract Res Clin Obstet Gynaecol. 2014;28(7):1013-1027. 6. Vinding GR, Miller IM, Zarchi K, Ibler KS, Ellervik C, Jemec GBE. The prevalence of inverse recurrent suppuration: a population-based study of possible hidradenitis suppurativa. Br J Dermatol. 2014;170(4):884-889. 7. van der Zee HH, Jemec, GBE. New insights into the diagnosis of hidradenitis suppurativa: clinical presentations and phenotypes. J Am Acad Dermatol. 2015;73(5)(suppl 1):S23-S26. 8. Riis PT, Vinding GR, Ring HC, Jemec GBE. Disutility in patients with hidradenitis suppurativa: a cross-sectional study using EuroQoL-5D. Acta Derm Venereol. 2016;96(2):222-226. 9. Wortsman X, Jemec GBE. A 3D ultrasound study of sinus tract formation in hidradenitis suppurativa. Dermatol Online J. 2013;19(6).