The Hurley staging system is a widely used grading system to characterize the extent of disease in patients with hidradenitis suppurativa (HS). Hurley staging has been used in clinical trials and to inform HS management decisions.1,2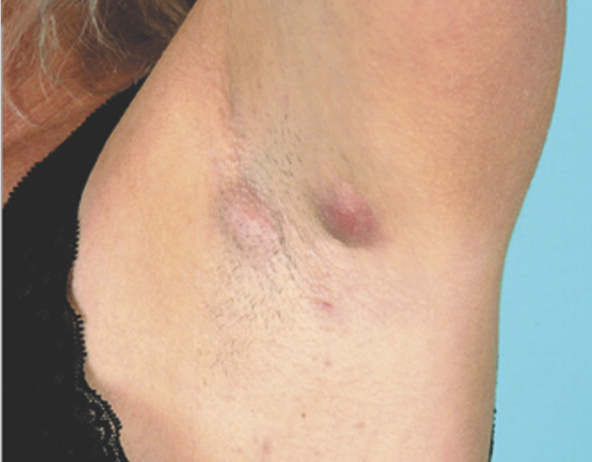 Typically presents as inflammatory nodule or abscess formation, single or multiple, without sinus tracts and scarring.1
Adapted with permission from Jemec, 2012.1
Hurley Stage II
(Moderate)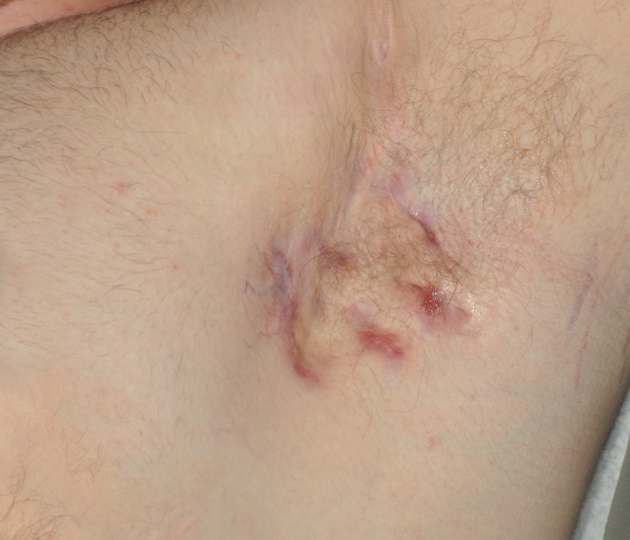 Typically presents as recurrent abscesses and nodules with sinus tract formation or scarring: single or multiple widely separated lesions.1,4

Determining Severity Beyond Visible Manifestations
Although the Hurley staging system is helpful in measuring disease progression, there are other considerations that are not visually evident but important to determine the severity and impact of HS patients.3,5-7
Be sure to also ask your patients about:
Frequency of HS flare-ups and associated pain3

Psychosocial impact of HS (eg, social life, ability to work)6
Restrictions in range of motion7

HS Patient Case Studies

Explore case studies of HS patients and their journeys to diagnosis and management.
Co-managing HS With a Specialist

Partner with an experienced HS specialist in dermatology to co-manage your HS patients.
REFERENCES
1. Jemec GBE. Hidradenitis suppurativa. N Engl J Med. 2012;366(2):158-164. 2. Micheletti RG. Natural history, presentation, and diagnosis of hidradenitis suppurativa. Semin Cutan Med Surg. 2014;33(suppl 3):S51-S53. 3. Jemec GBE, Revuz J. Treatment. In: Jemec GBE, Revuz J, Leyden JJ, eds. Hidradenitis suppurativa. Berlin Heidelberg, Germany: Springer-Verlag; 2006:183-186. 4. Data on file, AbbVie Inc. ABVRRTI68916. 5. Wortsman X, Jemec GBE. A 3D ultrasound study of sinus tract formation in hidradenitis suppurativa. Dermatol Online J. 2013;19(6). 6. Dufour DN, Emtestam L, Jemec GB. Hidradenitis suppurativa: a common and burdensome, yet under-recognised, inflammatory skin disease. Postgrad Med J. 2014;90(1062):216-221. 7. Margesson LJ, Danby FW. Hidradenitis suppurativa. Best Pract Res Clin Obstet Gynaecol. 2014;28(7):1013-1027.